"Rethinking/Strategizing/Empowering HR"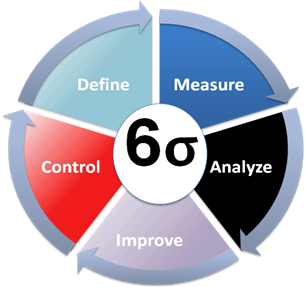 The terminology of "six sigma" relays an image and message of "efficiency due to strategic thinking".  By using specific skills (measure, analyze, improve, control, and define) a company can take any process or procedure and develop more efficient ways of tackling any task.
No more does "winging it" or "flying by the seat of your pants" produce quality and solid products.  Those of us who remember a TV character called "McGyver" remember how he was able to take duct tape and successfully accomplish just about anything.  But that was on TV and in reality, exact measurements and precise materials are what produces successful outcomes.
Today, more and more companies are either being acquired, merged or closed when unable to be successful in their businesses.  It is not just intelligence that companies need, but those who can think strategically and proactively.  No longer can a business wait until the last minute to take steps to prepare for the future.  That would be too late.  Instead, companies need employees who are more progressive and who partner with the employer to take measures now.  This is what it takes to be successful.
Though most areas of a business should think this way, the Human Resources Department is in a position to touch on the whole workforce in developing a strategic plan.  Therefore, employers are encouraged to have their human resources professionals to attend this program in order to be "the foundation for the company's future".  HRCI Strategic Credit hours will be arranged for those who complete this program.
This is a comprehensive two-day workshop to better position HR's effectiveness.
"Strategic thinking is important only if you want to stay in business and have a job…If you and your leadership team aren't able to think strategically today, you may not have a business tomorrow" said Rich Horwath, president of the Strategic Thinking Institute during a SHRM Conference Mega Session.
Six Sigma Strategies for HR will:
Introduce you to the foundational concepts of Six Sigma philosophy and process.
Explore what Six Sigma means and the critical elements of the approach, which helps you successfully participate in your organization's Six Sigma program.
Gain an understanding of employee roles in Six Sigma.
Introduces you to a straight-forward framework for satisfying your customers, reducing waste, and increasing efficiency and quality in your HR organization, as well as the total company.
Examine how you can meet Six Sigma challenges and the skills you will need to grow a Six Sigma organization.
Provide you with the ability to identify processes that need improving and meet these challenges head-on.
HR professionals must show the value of what we do, as well as build a compelling business case to inform and encourage leaders in order to gain their support. Six Sigma Concepts for Human Resources provides the tools for HR leaders and managers to become more business-focused with the processes that they execute.
For more information email info@compasscareer.com  or call 704-849-2500